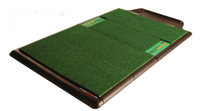 True Strike Golf Mats
True Strike is trusted by top college golf programs, teaching facilities, driving ranges, private clubs, indoor golf training centers and intelligent home golfers all around the world.
There is simply no better golf mat available anywhere.
True Strike – A Revolution In Golf Mat Performance!
AREA 18 is the exclusive Distributor of True Strike Golf Mats in Australia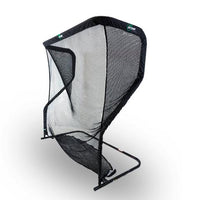 The Net Return
The Net Return™ (NEW) Home Series Golf Practice Net is the only net in the world that automatically returns the ball back to the golfer.
The Home Series net can also handle golf ball speeds of 320 km/h with ease and provides any golfer with the ability to practice anytime and anywhere.
Best of all, the Home Series practice net can also be used for a variety of sports - including Golf, Soccer, AFL, Rugby League, Rugby Union, Baseball, Softball and More!
"True Strike feels more like the fairway than any other mat I have hit off"

Joe Clark Sr. ~ Master PGA Professional Owl's Nest Golf Club – NH
The spin numbers we got from your mat is the closest to real turf I have seen. And you should advertise this more. People doing iron fittings of crappy mats are seldom happy with their results when they get onto real grass.

Petri K, Sweden
If you can afford this baby, you won't be disappointed! It is the most awesome golf mat that I have ever used, and I have probably hit balls on just about everything there is to hit balls on. This golf mat is rated for driving ranges, so as an individual, it will probably last me the rest of my life. This mat is not for the faint of heart, since it is pretty pricey, however, if you are a die hard player like myself, and like to practice a lot, then this is the golf mat for you! SAAAWEEETTT!!!! .

Squidly, Nashville, TN
I've had my TrueStrike for a week now, and I'm very happy with it. It's a brilliant product. Thank you VERY MUCH!

Stuart McRobert, Cyprus
In response to your question below about how I like my TrueStrike. I would have to say its one of the best golf purchases I have made. It sets up perfect in my garage for practice, I can hit from the same spot on the mat and just replace the hitting section when it wears out. It's definitely more forgiving than hitting off a mat that lays right on top of cement (ouch!)

Jeremiah P, Oregon USA
I have had a TrueStrike mat in my garden that I have used with a practice net for the past 3 years. It has been used most days and provides an excellent replication of the feel of a real fairway. I consider it to be far superior to any of the other mats I have had over the past years

Christopher P, UK
Mat is awesome for irons-just like a fairway

lzfan346
Highly recommend!! Great product & great service!! Thanks!!

urbn_gypsy